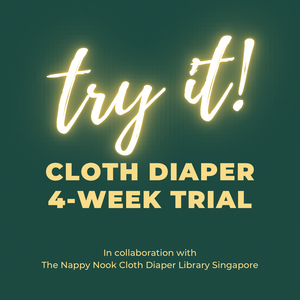 Little Lalang
Cloth Diaper Trial Rental - $80
Regular price
$135.00
Sale price
$313.00
Unit price
per
Tax included.
Shipping
calculated at checkout.
Want to try cloth diapering, but unsure if you'll be able to cope?
Want to buy cloth diapers, but not sure which one will best fit your baby?
Our Cloth Diaper Trial provides an excellent opportunity for you to try out popular cloth diaper brands risk-free for less than $3/day (the same amount you'd spend on disposable diapers in that time!).
Each trial kit contains enough diapers for 2-3 days (full time) or 7 days (part time) before washing. At the end of your 4-week trial, you will receive either $100 back or $110 store credit to get you started! Best of all, this bundle comes with personalised help from a cloth diapering expert, so you will have the smoothest possible start to your cloth journey.
Details
Your Cloth Diaper Trial Kit includes:
At least 10 high quality diapers from a variety of well-known Australian and US brands, valued over $400
FREE 30-minute zoom consultation with a cloth diapering expert who will help you create a customised laundry routine that works for your family
Tips, technical support, & advice from our experienced team
Optional discount purchase of nappies from the trial package
$100 refundable deposit OR $110 store credit
FREE 2-way courier (delivery and pick-up)
All the diapers in the trial kit are washed and sanitised before being sent out.
The 4-week rental period begins from the date you receive your diapers.
Your $100 security deposit (less late fees or cost of repairs required, if any) will be returned to you in the form of a refund (100%) or store credit (110%).
See the full terms & conditions of the trial here.
---
Share this Product
---