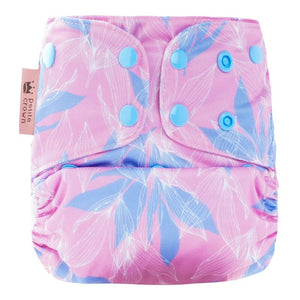 Petite Crown
Catcher Cover - Serenity
Regular price
$15.00
Sale price
$19.00
Unit price
per
Tax included.
Shipping
calculated at checkout.
The Catcher Cover is a wipeable shell that can be used with any absorbency of your choice — you can even use it over disposables to contain leaks! It's a large one-size-fits-most cover that can last your child from a young age all the way through potty training, making it a practical choice both for your wallet and the environment.
Why we love it
1. Generously sized
The Catcher is the roomiest option among all the Petite Crown diapers, so it will fit perfectly over even the biggest of your night time diapers. It was specifically designed for use over fitted diapers, to provide a bulletproof solution for heavy wetters.

2. Easy to clean
There are no flaps on the inside of the cover, thus allowing for far easier cleaning and spraying. For regular diaper changes, you can wipe down the interior and reuse the shell with new inserts*. This means you can get away with buying less diapers overall — great news for both your wallet and the environment!
3. Leak proof
The Catcher Cover has double leg gussets for advanced leak protection to eliminate blow-outs. It also features a high-rise design with encased elastic in the back to contain messes and to ensure the absorbency stays in place. Even if you're not quite ready to dive into cloth diapering, you can use this cover over disposable diapers to prevent poop-splosions and leaks!
———
*If pee/poo has been absorbed into the leg elastics, or if the nappy was used as a night nappy, we recommend washing the entire shell instead of wiping it down as this may cause irritation to the legs.
Details
Sizing
Designed to fit babies from 4.5 kg to 18 kg
3x4 adjustable rise snaps for three different size settings
Angled snap closure to ensure a better fit

Material
100% Polyester (TPU laminate)
Safety Compliance
CPSIA compliant
Tested by a Consumer Product Safety Commission (CPSC) accepted test lab
Free from harmful chemicals and metals
---
Share this Product
Great over fitteds
I've tons of keepers but they have to be stretched over fitteds, the Catcher has a wider crotch and more space in the bum so it fits much better! I use Keepers over flats and preflats instead :)
---